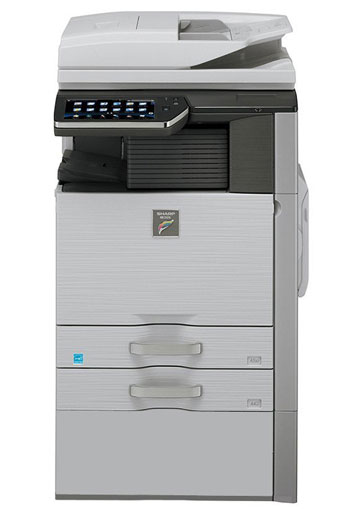 Lease Or Buy This Copier Today
The Sharp MX-5110N Color Copier Document System combine the simplicity of touch-screen menu navigation with robust multi-tasking workflow features that can elevate your office productivity to new levels. A large 10.1″ (diagonally measured) high-resolution tilting, touch-screen display offers groundbreaking real-time image preview with intuitive flick and tap editing to help ensure your documents are produced accurately and without waste. The new MX Color Series also offers many advanced features such as a fully customizable home screen, dynamic action menus
that provide feature-specific guidance, and an available full-size retractable keyboard for easy data entry.
Plus, with Sharp's enhanced second-generation micro-fine toner technology and true 1200 x 1200 dpi print resolution, the new MX Color Series can help your business produce professional looking color documents in-house with breathtaking image quality that is also economical.
The new 5110N Color Series has been built on the latest Sharp OSA® Development Platform, making integration with network applications and cloud services easier than ever. And, with Sharp's Industry leading security platform with standard 256 bit data encryption and overwrite protection, you can rest assured that your intellectual property is well protected.
To Buy Or Lease This Copier
Call Us Now (562) 203-3690

Downloads